Lattice Information Center
Vinyl Lattice that won't fade, warp, or discolor, that's DuraShell® and Decorative 3-D Solid Core Vinyl Lattice from Permalatt!
Permalatt Products, Inc. is the leading manufacturer of solid vinyl lattice. Much more durable than wood lattice, our solid core 3-D vinyl lattice will not fade or warp. For more information on the DuraShell® or Decorative 3D lines of vinyl lattice, please click below. You've come to the right place for your traditional diagonal and square lattice needs!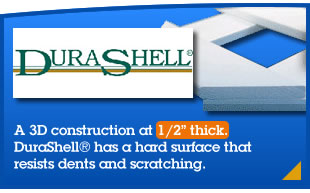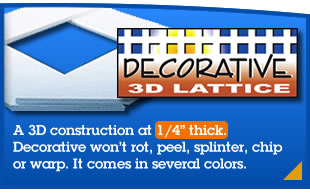 BENEFITS OF VINYL LATTICE

Maintenance Free
Vinyl lattice offers minimal expansion and contraction, and excellent weatherability. The solid cellular core vinyl lattice cuts and handles just like wood. Our lattice offers an attractive look, is virtually maintenance free and comes with a Lifetime Warranty.

Endless Applications
Our vinyl lattice can be used for a number of product applications. Our durable vinyl lattice can be used in both residential and commercial applications. With DuraShell and Decorative 3D Vinyl Lattice from Permalatt, the sky is the limit!

Variety of Sizes
Our maintenance-free vinyl lattice is available in a number of sheet sizes. If you need a custom sheet size, please contact us for more information.

Wide Color Selection
Our DuraShell® products are available in a wide variety of colors to match your outdoor decor including white, Laguna Dune, Khaki, Sandtone, and Almond. Our Decorative 3D lattice products are available in all colors except Almond.
LATTICE PROBLEMS? TRY THE PERMALATT SOLUTION!
Wood Lattice and lattice from your local home improvement supercenter may cost less initially but there are a number of problems you need to be aware of. Wood lattice requires painting year after year to prevent discoloration. It tends to rot, splinter, and peel. High Density Polyethylene (HDPE) lattice, found at home improvement centers, can expand or contract up to 1" in an 8' panel. It often ends up warping (see picture). HDPE can also become discolored or brittle when a minimal amount of micro ingredients are added to save costs.
COMPARE OUR PRODUCTS
Would you like to know how we stack up against traditional wood lattice and polyethylene plastic lattice? Check out our comparison chart which shows the benefits of our solid-core DuraShell® and Decorative 3D Lattice.
PRODUCT SPECIFICATION GUIDES
You can view exact product specifications for many of our lattice products by downloading our various product information sheets.
MORE LATTICE INFORMATION
If you're interested, we also have information on various ASTM tests that our lattice products have undergone. In addition, we offer a product specifications guide for download.
Questions? Please feel free to contact us.